📊 Chatbot analytics — all the metrics you need to track 
Chatbot conversations can deliver remarkable business value — provided they focus on the user and bring fast resolutions. Creating the proper chatbot strategy can help you achieve that. But even if you do your best during the implementation phase, you'll still need to keep an eye on your chatbot analytics to verify how your AI agent is doing. 
By following this guide, you'll learn how to measure your chatbot's performance step by step and explore the critical bot metrics that can show you the big picture. 
🤖 Achieve more business goals with AI. 
What is chatbot analytics? 
Chatbot analytics (conversational analytics) is the process of gathering, analyzing, and interpreting data related to chatbot conversations with users. It involves tracking metrics like user engagement, conversation length, chat time duration, or conversion.
By analyzing your chatbot chats, you can gain insights into how customers interact with your chatbot. You can also make data-driven decisions, identify areas for improvement, and optimize your chatbots to achieve more business goals. 
To evaluate your bot's health, you can analyze reports and archives integrated with your chatbot development platforms or use external chatbot analytics tools. 
Why is chatbot analytics essential?
Chatbot data is king. It gives you information about what works and what doesn't. It can also guide you on how to improve your chatbot's performance to get better business results. 
It lets you improve customer experience 
Regular analysis of your chatbot chats can help identify areas where your AI agent is adequate or needs improvement. By knowing your chatbot's weak points, you can introduce precise enhancements to boost its usability.
It helps to measure your return on investment (ROI) 
Even if your chatbot is popular among users and you notice an increase in its usage, you still need to evaluate its effectiveness by measuring the actual results achieved against the goals set. This way, you can identify areas with positive returns and areas where your chatbot is inefficient.
It gives you insights into your customers' behavior 
Chatbots can collect customer contact information, gather their demographic information, and let you better understand their purchasing behavior. While chatting with the user, the bot can also ask for the user's feedback, likes, and dislikes. You can use all the collected information and insights to revamp your customer experience and create more targeted communication or marketing campaigns.
It helps detect technical issues 
Error messages, neverending loops, and dead ends destroy the customer experience and can prevent the user from chatting with your bot in the future. Constant monitoring can help you avoid that. It lets you identify technical issues before they escalate so you can fix them quickly and minimize their negative impact on your AI agent's credibility. 
How can I track my chatbot's performance? 
Tracking your chatbot's performance is essential to understand how well it performs and how to improve it. Here are some ways to monitor your chats:
Archives - by revising the chats held by your chatbot, you can find out the popular questions your users ask and what type of language and terms they use. 

Reports - to be up to date, you need to monitor metrics such as the number of chats, the conversation lengths, or goal conversion. Most of these metrics are available within ChatBot Reports. 

A/B testing - testing different stories, types of bot responses, or personalities might show which resonates with your customers most. The ChatBot platform provides the A/B test action that lets you test multiple flows simultaneously. This way, you can quickly check which of them performs best.  

Surveys - to get quality feedback on your chatbot's usefulness, you can ask customers to share their opinion via a survey. The collected information can give you a more detailed view of what customers expect from your AI agent. 
9 key chatbot metrics to track 
Let's explore the crucial areas you should focus on while assessing your chatbot's success.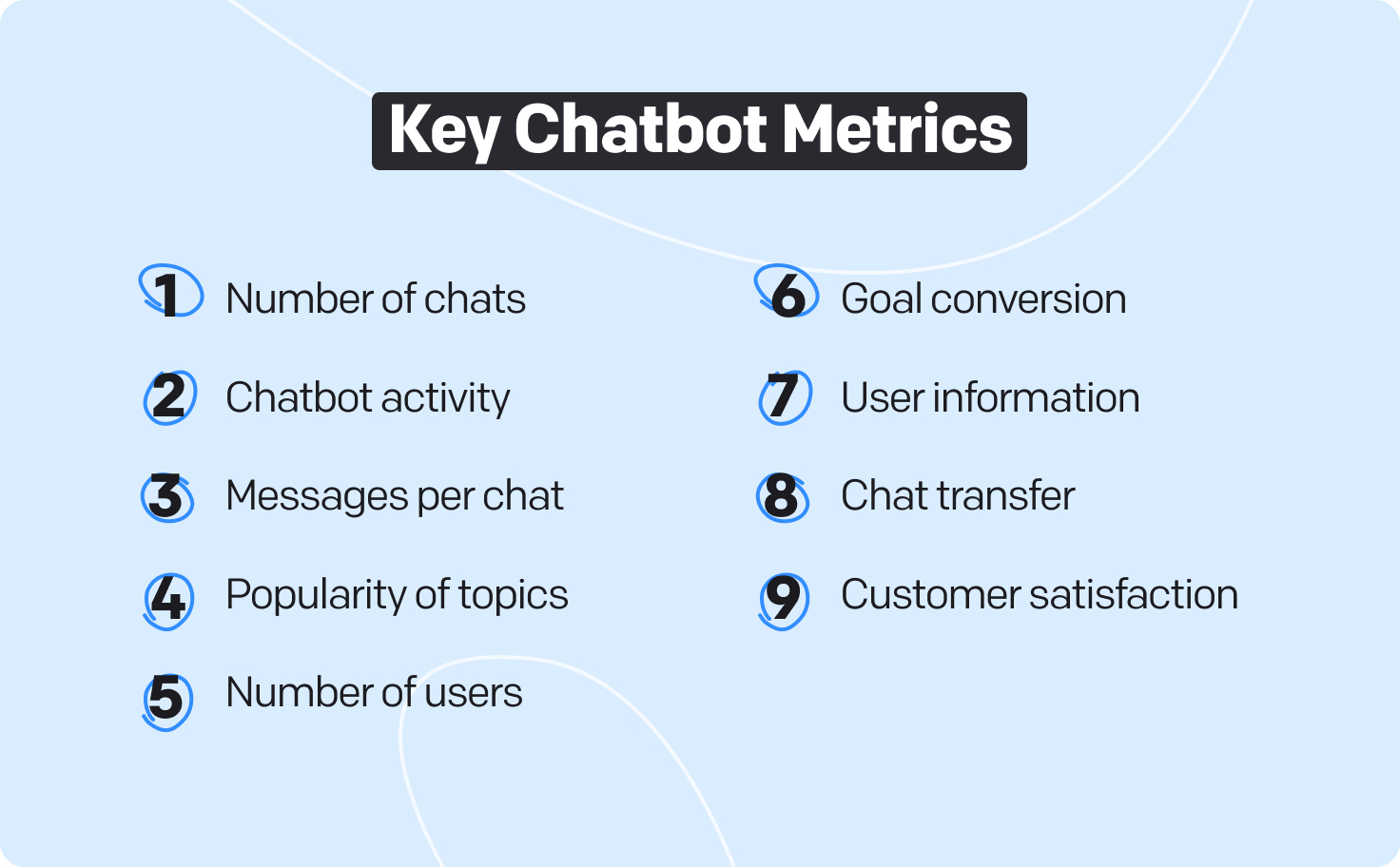 1. The number of chats 
First, you should check how many chats your chatbot has with customers. This information will tell you how many users initiate a conversation with your bot. If you see that the number of conversations is low, users either don't notice the bot option on your website or assume the bot won't be able to help them.
To address that problem, you can set up different positions of the chat widget on your website, experiment with the chat bubble look, and test multiple greetings to see which one has the highest conversion.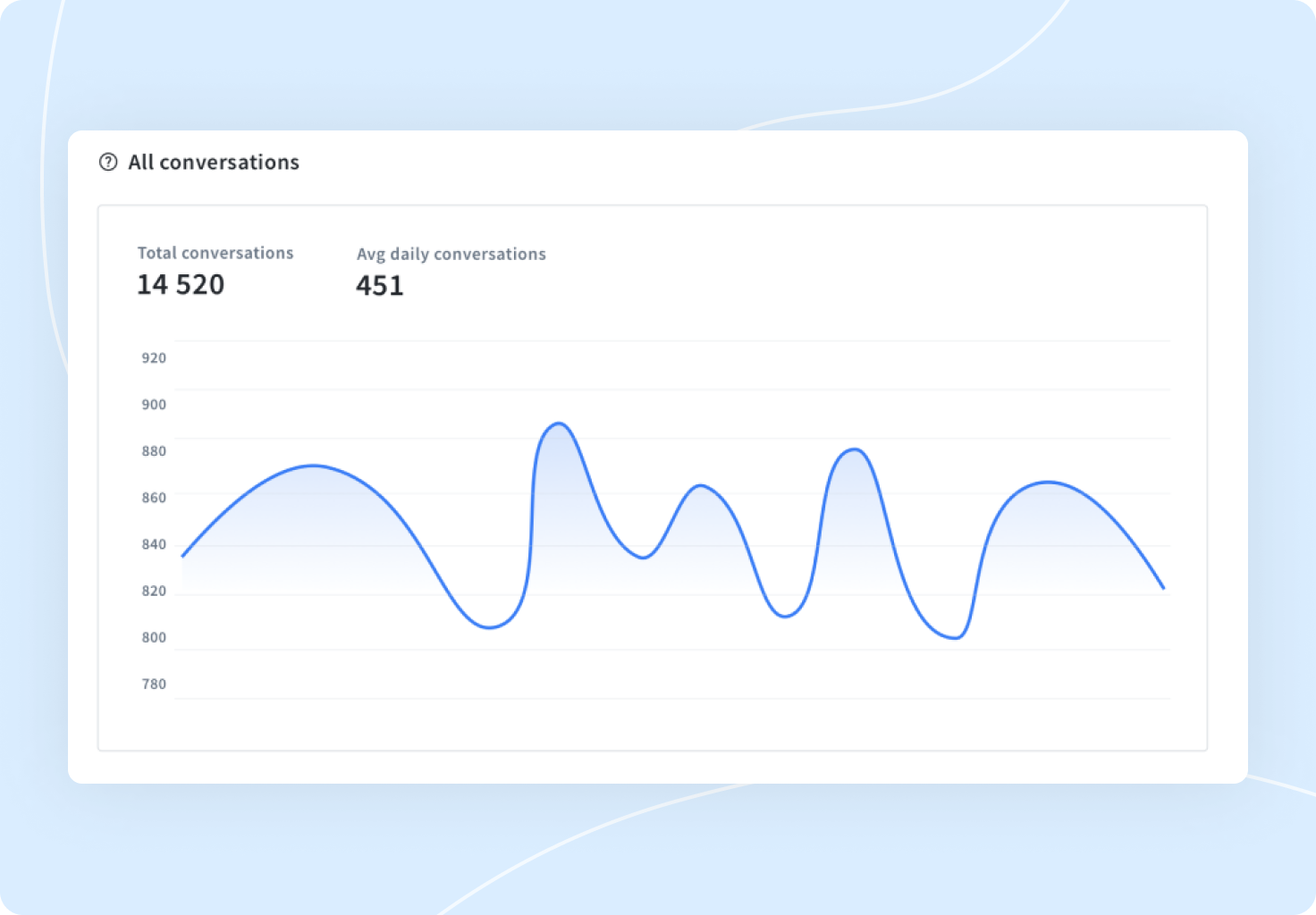 2. Chatbot activity 
Another metric worth following is the chatbot activity. It relates to the number of chats that your bot has in a given period. By monitoring your chatbot activity, you can track the peaks and falls in the chatbot's usage. 
You may notice that your bot is more active during weekends when your team is off or during the shopping season when there is an increased shopping activity. You can thoroughly analyze the chats that happen in the busiest periods to get insights into when your customers need your help the most and what can be the reason for this demand.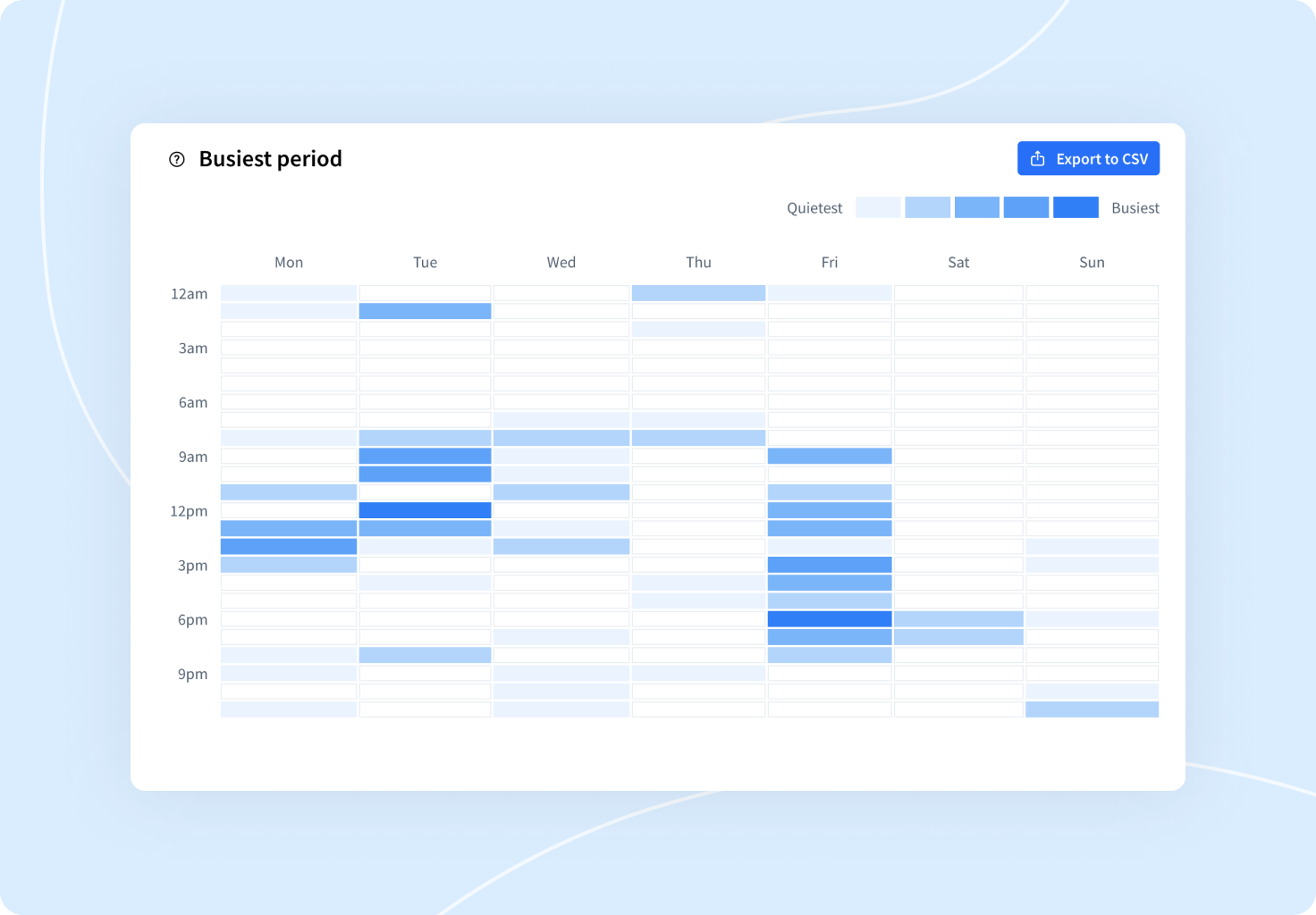 3. The average number of messages per conversation 
Apart from checking how many chats your bot has with users, you can explore how many messages your bot exchanges with the user per conversation. 
The length of a specific chat might depend on the issue — complex problems might take longer, but simpler ones can be resolved immediately. 
Moreover, monitoring your chat's duration can help you evaluate user engagement. If the number of exchanged messages is low, your bot doesn't keep the user engaged. Then, consider making your conversation more attractive and helpful to boost chat retention. 
On the other hand, if you observe that some chats take much longer than others, you might dig deeper to verify why it's so and check whether the customer issue can be resolved faster.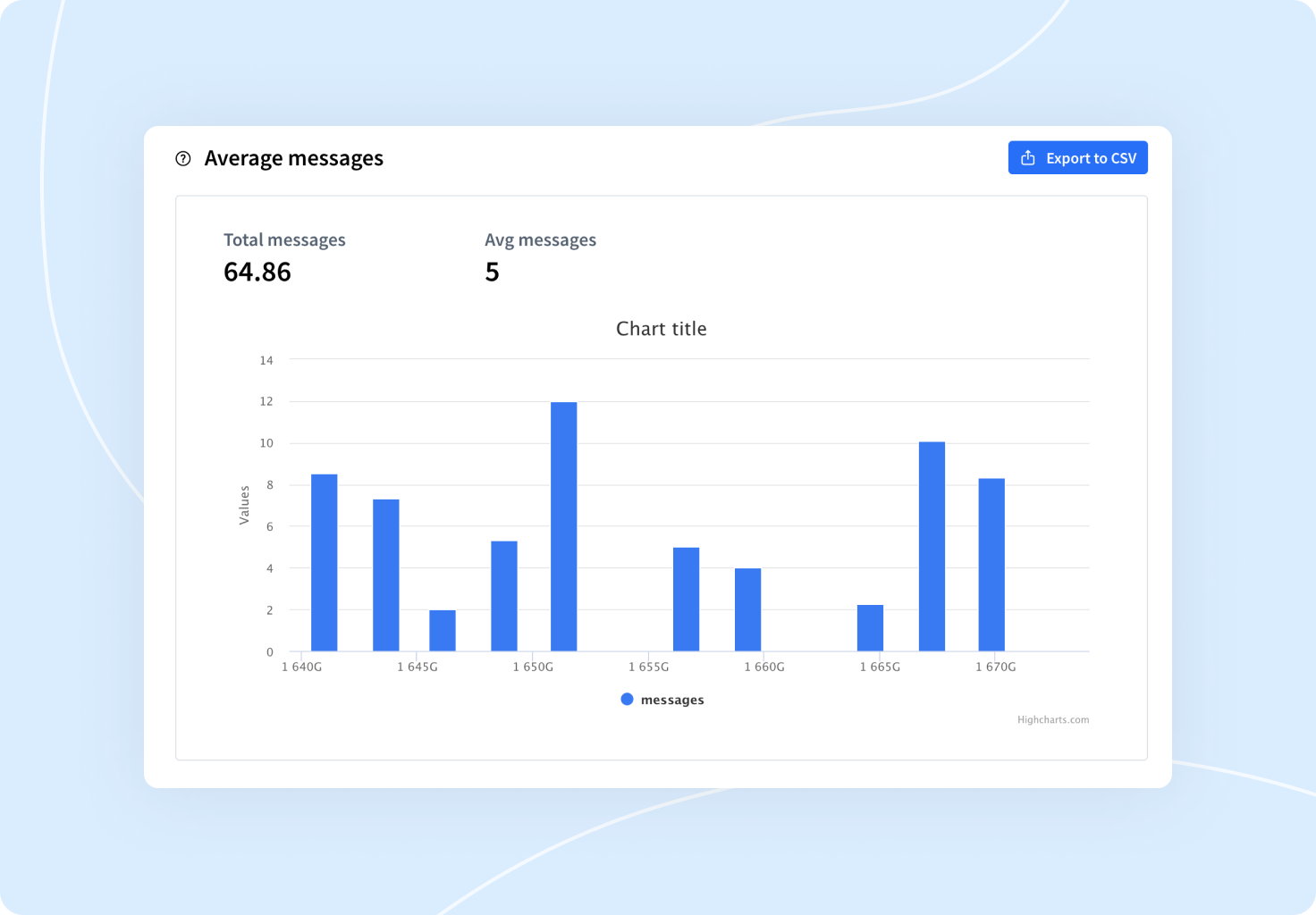 4. Popularity of topics 
Topic popularity is a valuable metric that can give reliable feedback on your customer's needs and interests. 
When you create your bot scenario, you assume what topics interest your customers. Nevertheless, only by testing your bot with users can you confirm the initial presumptions. 
By monitoring your chatbot performance, you can find out which issues interest your users the most and which are redundant. Then you can develop your bot story around popular issues and remove those not searched. This will help to improve your chatbot's relevancy. 
5. The number of users who chat with your bot 
While analyzing your chatbot's overall performance, you can check how many users interact with your AI assistant. With this metric, you can also check the number of returning visitors. 
To check the number of returning visitors, you must compare the number of users with the number of conversations in a particular period. If the number of chats exceeds the number of users, it'll mean that some users chat with your chatbot more than once.  
However, if the number of users is approximate to the number of chats, you would have few returning visitors.
To explore the potential reasons that prevent your customers from returning to your chatbot, you can review particular chats in the Archives and profiles of individual customers in the User section. 
6. Goal conversion  
Goal tracking gives you a broader perspective on your chatbot performance. How to track it?
Let's say you can use a bot to collect new newsletter subscribers. You can use chatbot segments to create a custom newsletter user list in such a case. When the user signs up for your newsletter while chatting with the bot, your AI agent will automatically add their email address to that list. Thanks to that, you'll know how many users subscribed to your newsletter via a chatbot. Moreover, you can define how many chats ended with goal completion.
Another way to count your chatbot conversion rates is to use the LiveChat Goal action. It lets you track the 'achieved goals' and see how many of your chatbot conversations finished with a signup, sale, or any other business goals. To use the LiveChat Goal action, you must use the LiveChat integration. 
7. User information 
Complex information about your users helps better understand their needs and adjust your service to their preferences. Chatbots are a perfect tool to help you connect with customers and get to know them better.
While chatting with the user, the bot can gather plenty of active and passive data like customer timezone, the channel they use, the website address they come from, their email, etc. You can use that information to verify what type of users chat with your bot or which chatbot channel is the most popular among your users. That can help you tailor your chatbot communication to your target audience for better results. 
8. Chat transfer 
Chatbots are becoming more capable, and now up to 65% of customers feel comfortable resolving their problems using them. 
However, some customer support problems still need human attention. In such a case, your bot can transfer the customer to an available live chat agent. 
Tracking the human takeover metrics can show how often the bot can/can't solve a case. You can then verify whether there are any particular topics your chatbot can't cope with. Knowing that you can explore ways to make it more helpful to users and limit the human handover, especially when the case can be solved without involving a person.
9. Customer satisfaction 
Last but not least, you can't forget about one of the vital bot metrics that give information about your business health — customer satisfaction scores.
You can browse conversation Archives and analyze your past chats to learn about your customer's moods and attitudes. 
However, you can also create a customer satisfaction survey and gather your answers with your bot. Then, thanks to segments, you can group your users into satisfied customers and those unhappy with your service. If they additionally provide the bot with their email, you can message them later to get additional feedback or offer help that might increase user satisfaction. 
Grow thanks to data-driven decisions 
You can't take your chatbot's success for granted. That's why chatbot monitoring is as vital as AI implementation. The upside is that with the right chatbot analytics at hand, you can validate your initial assumptions and find out what works and what doesn't. 
Once you are in the know, you can train your chatbot to extend its scope and help it provide even more accurate answers. All the while improving your customer experience and achieving more business objectives.
🤖 Achieve more business goals with AI.