Showing top

0

results

0

results found
Showing top

0

results

0

results found
8 min read
Jul 25, 2023
As chatbot technology changes fast and new tools are being developed every day, it's increasingly important to compare the solutions in the market so you can make a careful decision that aligns with your business objectives and maximizes the value of your investment in the best AI chatbots.
This article explores AI chatbot platforms, with a particular focus on ChatBot, Freshworks, Tidio, and Intercom. By carefully evaluating their key features, pricing plans, and benefits, we want to empower you to confidently choose the solution that aligns perfectly with your business.
Let's dive into this exploration!
🤖 Never heard of ChatBot before?
Key aspects to consider when choosing a chatbot platform
Choosing the right chatbot platform starts with understanding its key features. These features directly impact the quality of the personalized and engaging conversations the chatbot platform can provide. The key features worth considering are:
Artificial intelligence: AI capabilities for intelligent responses and meaningful conversations.
Integration capabilities: Streamlines operations by integrating chatbot with other external systems like Facebook Messenger or Slack.
Complementary customer service solutions: Additional customer support by integrating with different solutions offered by the particular chatbot company, such as live chat, help desk, or knowledge base.
Customization options: Tailors chatbot conversations to match the brand voice and specific requirements.
No-coding: User-friendly interfaces for building chatbots without coding.
Pre-build templates: Ready-to-use designs and configurations that can be easily customized and launched without the need to build from scratch.
Analytics and reporting: Provides insights for data-driven decision-making and continuous improvement.
A good chatbot platform brings lots of benefits to businesses. Chatbots can quickly resolve your issues without any human help. Your customers get quick responses to their questions with their real-time support, ensuring a smooth and satisfying experience. Plus, chatbots automate tasks so you can focus on important stuff and grow your business.
It is worth mentioning that evaluating pricing plans may be helpful for small businesses or businesses at the beginning of their journey. Thanks to some flexible pricing plans, you can expand your chatbot and avoid breaking the bank.
By considering these factors, you can decide on the best chatbot platforms and select the one that meets your needs and helps move your business forward.
Overview of AI chatbot platforms
When it comes to AI chatbot platforms, businesses have a wide range of options to choose from. In this section, we will explore ChatBot, Freshworks, Tidio, and Intercom and check if their features determine the key aspects described above.
ChatBot
ChatBot is a powerful and user-friendly platform that lets you effortlessly create and launch chatbots, even without coding experience. With its intuitive Visual Builder, ready-to-use templates, and the option to train your bot, you can quickly build a chatbot tailored to your needs. Dynamic responses allow you to personalize chat interactions and customize your chatbot's responses based on user data and specific criteria, while the Users section lets you build closer relationships with the users who have chatted with your bot.
Customers can connect through their preferred channels thanks to the seamless integrations with various platforms like Facebook Messenger or different Text company products like LiveChat, HelpDesk, or KnowledgeBase. You can optimize and improve your chatbot's performance thanks to the detailed reports that provide valuable insights and track useful data. ChatBot focuses on allowing you to create bots in which the human touch balances AI technology.
Top features:
No-code chatbot builder
AI-powered chatbot
Chatbot Testing Tool
Customizable Chat Widget
Pre-built templates
Dynamic responses
Train your bot option
Users section
Analytics & Archives
Internal & external integration options
Pricing: Free 14-day trial and then four plans to choose from (Starter $52/mo; Team $142/mo; Business $424/mo; and Enterprise with individual pricing). Explore our full pricing page and choose a plan that fits you best.
Freshworks
Freshworks' chatbots are an essential component of their live chat software. With smooth integrations, AI-powered self-service, and various tools, Freshworks chatbots ensure a unified and efficient workflow. They provide customizable chatbot templates, empowering businesses cooperating with them to tailor the chatbot experience to their specific requirements. They are also among the most affordable paid chatbot platforms.
Top features:
No-code chatbot builder
AI-powered chatbot
Pre-built templates
Real-time resolutions
Custom reports and visualizations
Integrations
Pricing: 21-day free trial and pricing plans, including bots, start at $15/agent/month.
Tidio
Tidio provides a range of chatbots, including an AI bot, that satisfy business requirements like sales, support, and customer service. With Tidio, businesses can leverage custom automation to accelerate growth and make customer interactions efficient. Additionally, Tidio's chatbot analytics and integrations increase customer engagement while automatic lead collection and qualification simplifies lead-generation processes.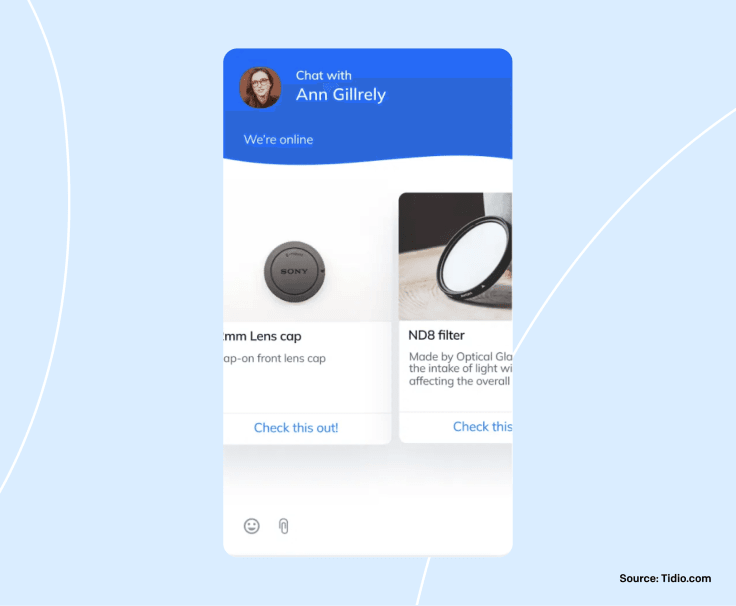 Top features:
No-code chatbot builder
AI-powered chatbot
Pre-build templates
Lead generation
Integrations
Analytics
Pricing: Free trial and pricing plans, including bots, start at 29 Euros/month.
Intercom
Intercom offers custom bots and an AI-powered bot. With their code-free platform, businesses can quickly customize workflows and use pre-built templates to resolve customer issues, qualify leads, and drive pipeline growth. Additionally, Intercom provides customers with valuable integrations and analytics.
Top features:
No-code chatbot builder
AI-powered chatbot
Pre-build templates
Customization and custom answers
Integrations
Analytics
Pricing: Free trial and three pricing plans, including bots, start at $74/month.
Why ChatBot is the best chatbot platform
If you're searching for the best chatbot development platform to enhance your customer interactions, you can turn to ChatBot. It has established itself as the top choice among chatbot builders for all kinds and sizes of businesses.
Unique approach
What sets ChatBot apart is the focus on providing a tool that enables you to create long-term and authentic relationships with your customers while putting in minimal effort.
Conversational marketing plays a vital role in the development of ChatBot solutions. While growing with our tools, our team wants to enable companies to foster interactive dialogues with their customers and gain insights into their needs to establish deeper and more personalized connections.
We don't want to provide your business with bots that are simply AI chatbots. We want to balance artificial intelligence with the human touch. That is why, while working on products, we also pay huge attention to conversational design and its principles, like conversational interfaces.
Comprehensive solutions
ChatBot is a complete chatbot platform for business. It guarantees easy setup and smooth workflows.
You can easily build engaging chatbots - just drag and drop the component to arrange conversation blocks or choose from various response formats and actions to customize your bot.
It is essential to be able to test the functionality of your chatbot while building it. Thanks to this, you can eliminate or improve poorly working areas at the beginning of the bot creation process. Chatbot offers an advanced Testing tool that ensures your bot works well before it is given to the users.
With us, launching your AI chatbots on your website is a matter of a few clicks, thanks to the free Chat Widget. You can customize your bot's appearance to perfectly match your brand's unique style and design, creating a delightful and cohesive user experience.
ChatBot easily integrates with various platforms, enabling customers to connect through their preferred channels like Facebook Messenger, Shopify, Slack, or other Text products like LiveChat or HelpDesk.
The performance of your chatbots needs to be monitored so you can notice the weak areas and improve them. The reports provided by ChatBot allow you to track the total number of chats, analyze the heatmap to identify peak user activity times, and look at the average engagement within the chat.
Complete product, not a feature
What makes ChatBot a truly special AI chatbot platform is its dedicated focus as a separate product, not a feature, within the Text company, which offers a broad portfolio of tools, including LiveChat, HelpDesk, and KnowledgeBase.
This means that the team behind ChatBot is fully committed to its continuous development, providing excellent customer support. With us, you can trust that you're not just getting a chatbot platform but a partner dedicated to your success. The team always tries to improve and develop the platform, ensuring you have the best experience possible.
Whenever you need assistance or have questions, we are here to help you every step of the way. Your satisfaction and success are our top priorities.
ChatBot 2.0, a new AI chatbot
One of the key advantages of ChatBot is its upcoming release of ChatBot 2.0. This update empowers users with complete control over their bot's responses and the ability to train it using their own data source. This level of control and customization positions this AI chatbot as a leading player among other best AI chatbot platforms.
Setup is effortless, and it combines AI with human support, allowing users to connect with human agents, make calls, or create support tickets within the chat window. You can easily customize your bot's appearance without coding and integrate it with other services using available integrations or simply copying and pasting a code snippet and putting it on any website.
With ChatBot2.0's self-learning AI model, fed with your business data, you can ensure that customers receive relevant and reviewed information, providing a consistent and reliable user experience across various channels.
The best part is that it's already possible to sign up for beta tests to be among the first to experience this cutting-edge technology.
🤖 Would you like to join ChatBot 2.0 waitlist?
Conclusion
We have explored chatbot development platforms to help you find the perfect fit for your business needs. The future of AI chatbot platforms looks incredibly promising, with ongoing technological developments opening up exciting opportunities.
Now is the perfect time to embrace AI chatbot platforms and move your business toward automating customer service and easily scaling your ability to connect with customers efficiently.