Showing top

0

results

0

results found
Showing top

0

results

0

results found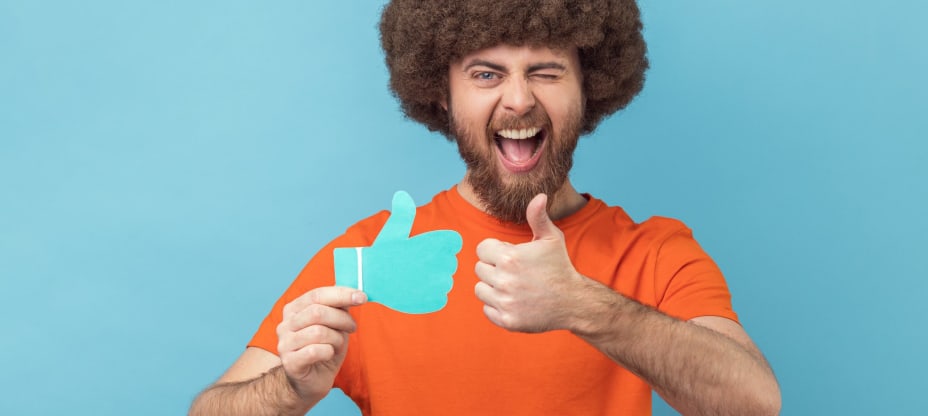 The robots are taking over, and they're here to help... with your handling customer inquiries, that is! Thanks to the wonders of artificial intelligence, Facebook chatbots can now assist you with everything from answering common queries to generating leads. It's like having a virtual assistant that never sleeps (or complains about the coffee).
This article will show you how to harness the power of chatbots for better customer service, so you can sit back, relax, and let the machines do the talking.
🤖 Deliver better customer service on multiple communication channels.
What are Facebook Messenger chatbots?
Think of it like a smart robot that can converse with humans. Don't expect a sophisticated discussion about philosophical dilemmas, but they can answer the most repetitive questions.
It's like having a virtual support agent that can answer questions 24/7 without ever taking a break to binge-watch Netflix (lucky bot!). So, whether you're a small business owner or a big-shot CEO, chatbots can help you improve your customer support and save time and energy.
What are the encouraging facts? 62% of consumers would use a customer service bot rather than wait for human agents to respond to their requests. That's right, and the numbers don't lie!
In the next section, I'll look at some impressive statistics behind Facebook messenger bots and why they're quickly becoming a must-have for any business looking to improve customer service.
Facebook customer service statistics
I may sound immodest, but the numbers say it is all about incorporating chatbots into your business strategy.
Facebook Messenger has 1.3 billion active users.
74% of internet users prefer using chatbots when looking for answers to simple questions.
Using chatbots for customer service can increase customer satisfaction by up to 24%.
Businesses can reduce their response time from hours to just a few seconds by using chatbots to handle routine inquiries.
This can lead to higher customer retention rates and increased revenue.
With all these statistics, you must admit these numbers are impressive. It's not just the speed in solving those simple and more complex customer questions but also the real help for your customer support team.
Why should you add a bot to your Facebook Messenger?
You probably know the answer to this question, given the data above. Providing a chatbot to your Facebook fan page can significantly impact customer service. With the growing trend of using social media to contact brands, offering fast and reliable customer service is becoming increasingly important.
According to the report about Gen Z communication, young people are more likely to use social media platforms to contact brands and expect instant answers. Chatbots provide a solution to this demand by offering 24/7 availability, quick response times, and personalized interactions.
Using Facebook Messenger chatbots, you can improve your response time and engage with your audience in a conversational and friendly way, ultimately enhancing their overall customer experience.
Beginnings are always tricky, especially when it comes to creating your chatbot. Still, with this guide on how to make a Facebook Messenger bot, it will undoubtedly be easier for you to explore the topic and start creating your masterpiece.
What can Facebook Messenger chatbots do?
Now that you've got a handle on chatbots let's get into some real-world examples of how they can connect with customers on Facebook Messenger and live chat services.
1. Connect with followers using their favorite channel
Why? This is dictated by what I said earlier about online messaging. After all, Facebook Messenger is an ideal medium for exchanging messages with friends and brands.
Besides, the beginning of a conversation on Messenger could be the beginning of contact with a user. You can always redirect the conversation according to the customer's preference to other communication channels: email, phone, or live chat on the target site. In any case, Facebook Messenger and the chatbot are ideal starting points.
2. Educate customers about your offer in a conversational way
One of the key benefits of using Facebook Messenger chatbots for customer service is their ability to educate customers about your products or services in a conversational way. Chatbots can provide information about your offerings, answer questions, and guide customers through buying.
This helps customers feel more confident and informed about their purchases, leading to greater satisfaction and loyalty. Plus, chatbots can provide this information 24/7, so customers can access it whenever they need it without waiting for a human agent to be available.
3. Share coupon codes and discounts in the chat window
Chatbots are excellent for promoting sales and discounts to existing and potential customers. With chatbots, you can easily share coupon codes and discounts in the chat window, making it easier for customers to take advantage of your deals.
The Discount Template is an excellent example of a chatbot template that can help you share coupons and discounts. This allows you to create a coupon code or discount offer and share it with customers via Facebook Messenger. You can increase customer engagement and drive sales by using chatbots to share discounts.
4. Carry out quizzes
I bet that you once wanted, at some point, to find out what type of bread you were through a quiz. Technology has advanced, and you can now talk about philosophical concepts with artificial intelligence, but the love for quizzes hasn't waned.
Facebook Messenger chatbots are an effective tool for carrying out quizzes and engaging customers in a fun and interactive way. With a chatbot, businesses can create customized quizzes and provide instant feedback to users.
For instance, you can use chatbot templates like the Halloween Template to create a spooky quiz that will entice your customers and keep them engaged with your brand.
5. Gather customer feedback to know your customers better
Facebook Messenger and chatbots can be an instrumental and powerful duo in gathering customer feedback and getting to know your audience better. Chatbots can collect valuable information about their experiences, preferences, and needs by engaging with customers.
This can help you improve your products or services, tailor your marketing efforts, and provide better customer service. With the help of chatbots, you can easily create surveys and polls to gather feedback and use the data you collect to make informed decisions. Chatbot templates like the Customer Satisfaction Template can help you get started quickly and collect valuable insights.
With this knowledge, you can be even more precise in your advertising efforts. For that matter, you should connect a chatbot with Facebook Ads. Thanks to that, users can start chatting with the bot once they click on your promotional post. You can use your AI agent to educate the customer about your offers and nurture them through the sales funnel.
6. Generate leads
As I mentioned, using a chatbot in Facebook Messenger can be an excellent way to start a conversation and, for example, continue it through another means of communication. Why not use it as a way to get valuable leads?
Facebook Messenger bots can gather contact information and preferences by engaging with visitors to your fan page, qualifying potential leads for your business. They can also use lead magnets such as e-books or free trials to encourage visitors to provide their contact details. With chatbots, companies can improve their lead-generation efforts while providing a personalized experience to their customers.
You can also find a dedicated template for this issue to get started faster with catching valuable contacts. Here's the lead generation template. Enjoy!
7. Respond to repetitive questions and get more time to focus on more complicated queries.
Every type of business has a compilation of the most common questions when dealing with customer service. We already covered the topic of discounts and coupons, but how about other questions? The Facebook Messenger bot can also take care of you on this topic.
Chatbots can be highly beneficial in answering frequently asked questions and providing instant replies to customers' inquiries. They can efficiently handle routine queries, reducing the workload on customer service representatives and allowing them to concentrate on more complex issues.
By utilizing a chatbot, businesses can ensure that their customers' inquiries are addressed quickly and efficiently, increasing customer satisfaction. In addition, chatbots can be programmed to direct users to appropriate resources or provide links to relevant information, saving customers time and effort.
Yes, I thought you wouldn't ask - here is a template, specifically a FAQ Template. Make it a real encyclopedia of knowledge!
8. The power of integrations
You can connect Facebook Messenger with almost any app, improving customer engagement and overall experience. Integrating with apps like Shopify, Google Sheets, and Trello can allow chatbots to accomplish tasks like ordering, data management, and project collaboration.
This level of integration provides a seamless experience for customers and streamlines the communication process. Customers can complete tasks without leaving the chat window, providing a convenient and efficient way to interact with businesses.
The Facebook Messenger bot can also make it easier for businesses to manage their operations, as it can automate many tasks and free up time for more complex issues.
Examples of Facebook Messenger chatbots
Various brands and companies have implemented chatbots to enhance customer service and engagement. Here are some examples of successful implementations.
One excellent example is LiveChat, which has created a Facebook chatbot to handle most typical questions about their solutions. When the issue is more complicated, the chatbot can transfer the conversation to a customer service agent to help with the problem. It's a superb way for the company to handle basic queries while freeing human agents to deal with more complex issues.
Another example is the LEGO chatbot, launched to celebrate the company's 85th anniversary. Although this chatbot solution is no longer available, it's worth mentioning that the company does not rule out its return in the future. The LEGO chatbot allowed customers to engage with the brand in a fun and interactive way, offering personalized building instructions, trivia quizzes, and suggestions for sets to buy.
The National Geographic chatbot is another excellent example of how Facebook Messenger chatbots can be used. The chatbot is designed to provide an interactive experience for users to explore the world's geography, history, and culture. The chatbot offers quizzes, games, and photo galleries to engage with users, providing them with educational and entertaining content. With its innovative approach, the National Geographic chatbot has become an excellent way for the brand to connect with its audience fun and meaningfully.
🤖 Deliver better customer service on multiple communication channels.
Automation is on the way
Facebook Messenger chatbots can change how businesses approach customer service on this social media. They can significantly reduce response times and improve customer satisfaction by providing a 24/7 service that can answer basic questions, gather feedback, and generate leads.
Moreover, with the ability to integrate with various apps, chatbots can provide personalized experiences for customers across multiple touchpoints.
Examples like LiveChat, LEGO, and National Geographic show that chatbots can be a valuable tool for any business. If you're interested in creating your chatbot, the Chatbot Designer Online Course provides a perfect introduction and vast knowledge for making your first automated, chat solutions.
By implementing chatbots into your Facebook customer service strategy, you can instantly help your customers while creating an engaging and entertaining experience.