Showing top

0

results

0

results found
Showing top

0

results

0

results found
7 min read
Nov 9, 2021
The holiday season is going to feel different this year. Many fewer consumers are going to hunt for products in physical stores to stay away from crowds. But that doesn't mean they're going to purchase less. Data shows that during the 2008 recession, contrary to predictions, many businesses recorded an increase in sales. As it turned out, people were buying more affordable treats like cosmetics or sweets to reward themselves or their families during difficult times. The trend of self-gifting is going to be just as visible this shopping season. 74% of shoppers are going to buy gifts for themselves this holiday. Adding to that, 85% of all global consumers declare they are going to search for presents online.
This means two things for you. First, you have a great chance to boost your sales this holiday season. Second, you need to get ready. Here are seven steps that will help you optimize your ecommerce chatbot for better customer experience, engagement, and hopefully, higher conversion rates.
1. Set up catchy greetings
A greeting is a short welcome message that pops up right above the minimized Chat Widget. Compelling greetings are a non-intrusive way to welcome visitors, but they can also do more than that. They are a recipe to boost website engagement, too. If your AI agent grabs a visitor's attention, it will get a chance to engage them in a chat and educate them about your offers.
Try to create an extraordinary welcome message that stands out. Users don't like to read screeds, so the shorter and more creative it is, the better.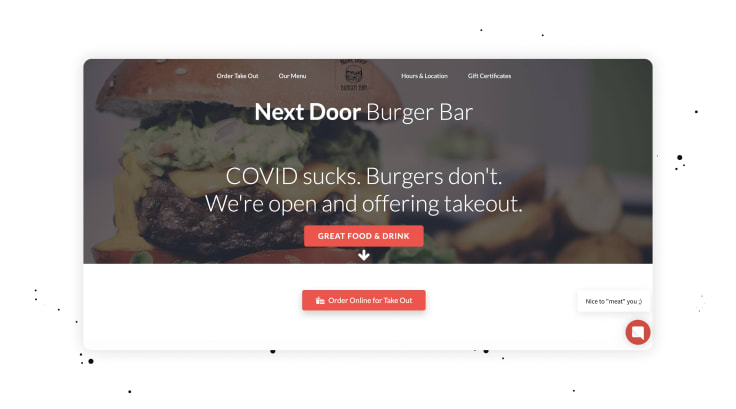 In ChatBot you can define what types of messages should be displayed to different types of users. For instance, you can use a greeting to offer customer support only on the checkout pages to instruct customers on how to proceed when issues happen. This can help to reduce the number of support calls and emails.
What's more, you can use a custom greeting to promote special offers or provide discounts to customers who entered your store through a referral link. By customizing your welcome messages, you can improve customer experience and boost chat engagement.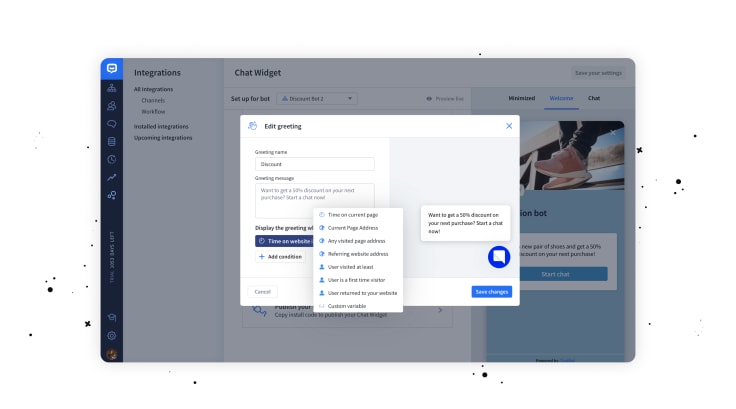 2. Personalize the shopping experience with product recommendations
Ecommerce sites can offer customers a wide variety of choices that brick-and-mortar shops often are unable to. On the other hand, undecided shoppers often get overwhelmed by the multitude of options displayed on their screen and leave online stores. Personalized product recommendations sent by a chatbot can save customers' time and nerves. They outperform generic marketing messages and help to close the personalization gap affecting ecommerce businesses. On top of that, studies show that over 70% of customers expect brands to understand their needs. Customized product suggestions let businesses meet these expectations.
When a chatbot manages to grab a customer's attention, it can ask them a set of clarifying questions that help to find offers that suit a person's preferences. After finding matching items, your ecommerce bot can bring products to a customer using colorful product cards or carousels. By doing this, you can make customers feel taken care of and facilitate their purchasing decision.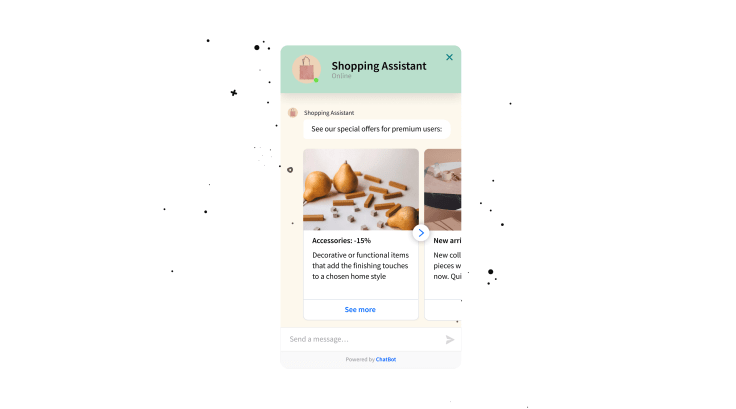 If a person decides to buy a recommended item, your chatbot can suggest related products and support cross-selling. Customers who click on personalized recommendations are 4.5x more likely to add items to their carts. They are also almost twice as likely to purchase from the same store in the future.
3. Give away attractive discounts
Discounts are a good way to incentivize customers to explore your store and support conversion. 37% of consumers say that having a chance to purchase a product cheaper makes them more likely to buy more items than planned. Conversational chatbots are just another way to promote and distribute your discounts. They can spice up your shopping experience, too.
By applying ChatBot Filters, Zapier, and webhooks, you can distribute promo coupons to customers who engage with your bot. You can segment your audience on new users, returning customers, or those who were redirected from a specific referring page and offer coupons only to a chosen group. This way the bot can better complement the customer's buying journey.
You can also use discounts in exchange for completing feedback surveys or providing email addresses. ChatBot lets you send collected data to your CRM or email marketing software. You can use this data in your future marketing activities.
If you want to get a head start with chatbot development, make use of our ready-to-use Discount Template. It lets you offer product discounts in return for subscribing to your newsletter.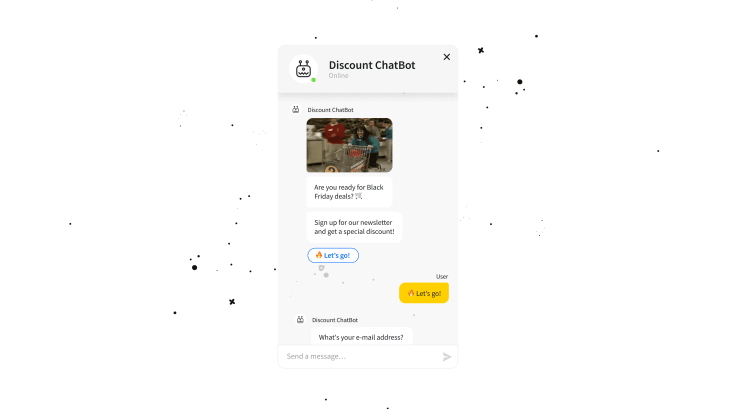 4. Amuse customers with brand quizzes
People enjoy taking quizzes, especially when they can learn fun facts about their personality or get rewards. Why not take a chance and add a bit of fun to your shopping experience using chatbot quizzes? They are much more engaging than typical web forms because they take the form of a casual conversation.
Using ChatBot, you can create many themed quizzes for special occasions. For instance, you can amuse customers on Halloween or educate them about national traditions on Thanksgiving. You can offer some nice rewards for customers who provide the right answers, adding a pinch of excitement to your store's visits.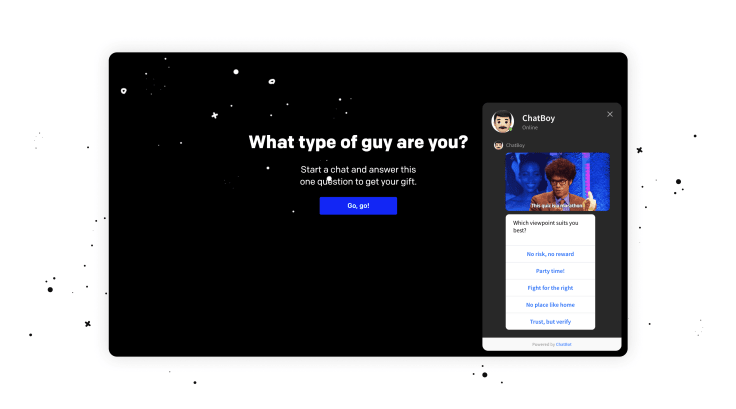 5. Ensure a positive shipping experience with package tracking
Assuring a positive delivery experience is just as important as the product you offer. 39% of consumers admit they wouldn't purchase again from a store that delivered a disappointing shipping experience. However, when your package delivery services are managed by external companies, you can't always impact its speed or quality. What you can do, though, is to let customers know when their orders will show up at their doorstep.
ChatBot allows your customers to track their packages whenever they need to. The customer just needs to provide their order number so that the bot can verify the status of their delivery. Thanks to that, your customers will be calmer knowing when their packages are going to arrive. Plus, your support service team doesn't have to devote time to managing questions that don't require human support.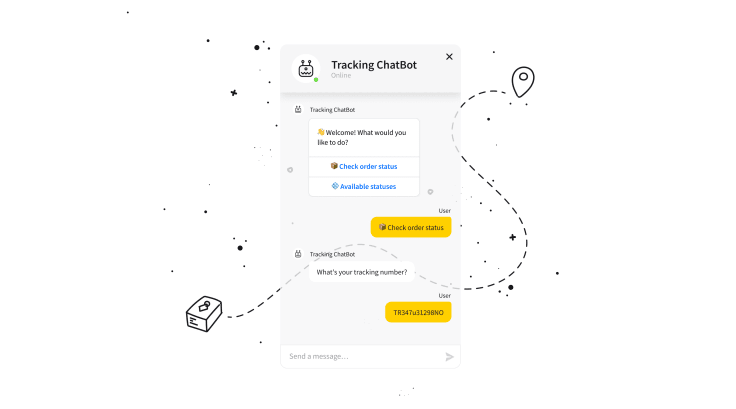 6. Tweak your chatbot's look and feel
Matching colors and beautiful graphics help to attract a visitor's attention and better communicate your message. That's why ChatBot lets you easily customize the way your Chat Widget and bot are presented to website visitors. You can apply your logo, brand colors, and images to make their look consistent with your brand style.
You can also go the extra mile this season and bring to life your special holiday AI helper. You can design a custom avatar and come up with a friendly Christmas name for it. Use a festive background image and colors to make your holiday website visits even more unique.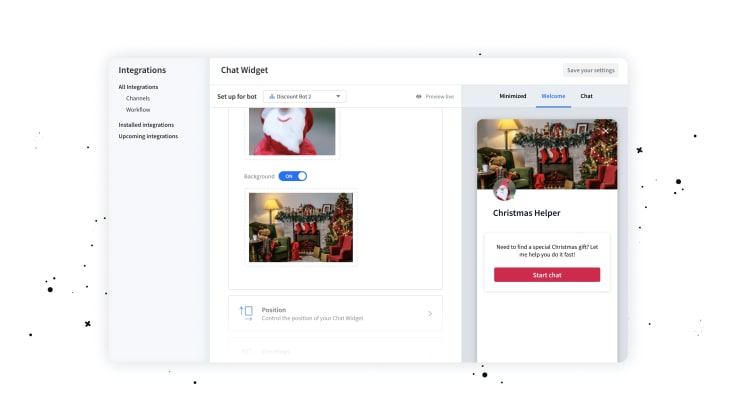 7. Connect with Facebook visitors
According to Facebook Insights, 12% of holiday shoppers search for products on social media. By adding a smart chatbot to your fan page, you get a chance to connect with that group of consumers, resolve their issues using their preferred channel, and showcase ongoing promotions.
ChatBot provides you with an out-of-the-box Facebook Messenger integration that lets you add your Story to your Facebook fan page with a couple of clicks. You can use ChatBot attributes to collect users' data (name or URL address), personalize your Messenger responses, or send it to your database.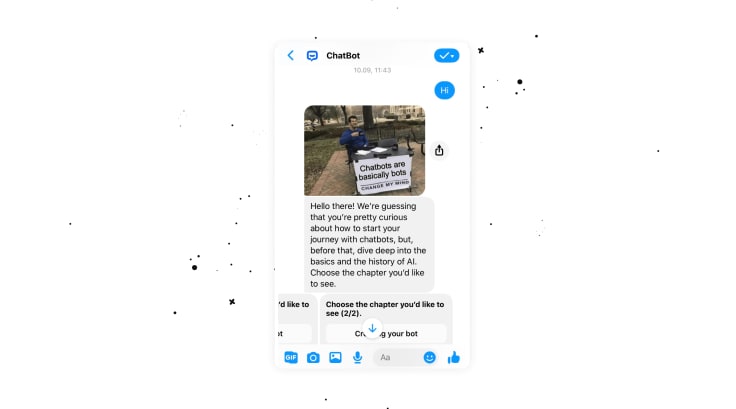 Learn more about the Facebook Messenger integration.
Make the most out of your ecommerce chatbot this season
The holiday season is a challenging time for ecommerce businesses. With proper planning and an awesome chatbot on board, you can rise to this challenge. Start by revising your Story and add elements that will minimize the number of issues requiring a human touch. Gather your team, and brainstorm ideas that will let you design a memorable brand experience. Whatever you do, focus on helping customers. If you plan ahead and do it well, higher conversion rates will be your holiday gift.
P.S. Would you like to use a lead generation chatbot? Watch our video tutorial and learn how to create one without coding.