Showing top

0

results

0

results found
Showing top

0

results

0

results found
6 Simple Yet Effective Types of Bots That Can Serve Your Clients Well
7 min read
Apr 1, 2019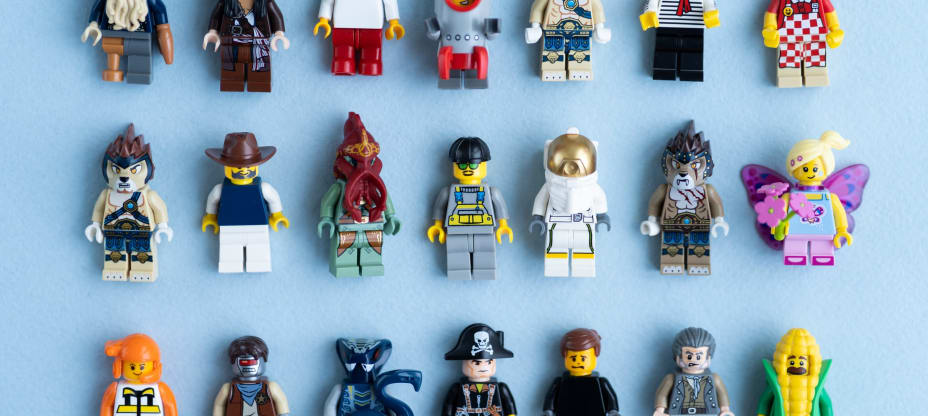 The popularity of live chat applications has been growing over the past few years. No wonder the number of consumers who prefer to contact brands using live chat has also grown (2019 Customer Service Report).
Quick chat replies assure impatient visitors that their problems will be taken care of. They also prevent clients from looking for help from your competitors who are just one click away. And as William H. Davidow once said, "the longer you wait, the harder it is to produce outstanding customer service."
However, what seems to be convenient for customers might be not as easy to handle by companies. Chat support can be a tough nut to crack, especially for companies that don't keep up with handling multiple queries or offer their services in different time zones. Fortunately, chatbots can get you off the hook.
Bots deal well with answering repetitive questions and guiding visitors on a website. They can answer multiple questions simultaneously and find a proper answer immediately, satisfying distracted customers. A long time will pass before chatbots replace human agents (if ever!) however, thanks to them, companies can save a lot of money and their chat agents gain more time to focus on challenging cases.
But some of you may think that it's all easier said than done. Building a chatbot isn't a piece of cake, is it?
The good news is that you don't have to be a programmer to create a bot for your company. Our platform allows you to build a wide variety of bots without typing a line of code. And what's more, we prepared complete chatbot tutorials so that you can learn exactly what steps should be taken to get a specific bot.
But let's go back to bots ideas and see why they are worth applying.
1. After-hours bot
Your company may have the best agents in the world, but in the end, humans are just humans. They get sick, need to see their child's kindergarten performance, go on holiday, and from time to time, they get stuck in traffic commuting to work. Even if you cover support 24/7, there's always a risk that your company will stop accepting and answering customer queries because of unforeseen reasons.

In such a situation you can either leave your clients unattended or use an after-hours bot. Such a chatbot can inform visitors about agents' absence and office hours as well as make it easier for clients to contact your company. It can gather their questions and personal details so that they won't need to visit your website again. And best of all, you don't even have to lift a finger to get new leads.
Later on, all that you have to do to make your customers happy is to write them back and build a relationship with them.
Follow the Academy lesson to create an after-hours bot.
2. Welcome Bot
It's important for businesses to deliver customers the help they need. But not every customer requires the assistance of a human agent. Some clients just need to get the basic information to continue purchasing or complete a specific action. Of course, you could answer all the visitors' queries but it might be boring and time-consuming, right?
So, maybe it's time to make use of a welcome bot?

Such a chatbot can work like a virtual shopping assistant who can greet customers, answer basic questions, and whenever necessary, transfer them to human agents.
As a result, simple cases can be efficiently resolved by the bot, plus, you can once and for all get rid of spammy chats. In effect, your team can also gain more time to focus on complicated cases and demanding clients, shortening the handling time of customer queries and boosting customer satisfaction.
Follow the Academy lesson to create a welcome bot.
3. Lead Generation Bot
Bots are good at answering questions but it's not their only capability. While talking with a visitor, your bot can ask specific questions and qualify a person as a lead. It can ask about visitors' contact data like names, emails, and product preferences promising that a human agent will get in touch with them shortly.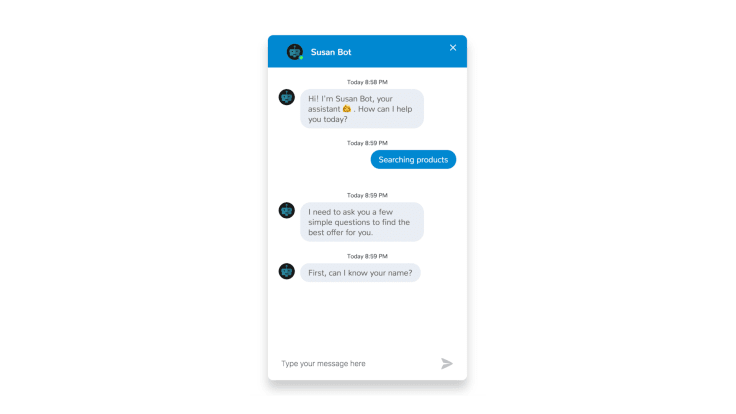 Using a bot instead of a simple contact form is a better way to let visitors contact you. If created well, bots are more likely to attract a visitor, engage them in short conversations and convince them to leave their personal details. What's more, ChatBot assures high quality of your leads and sends collected data to the backend. In effect, you can use it to reach out to clients with your marketing campaigns.
Follow the Academy lesson to create a lead generation bot.
4. Survey Bot
Online surveys are very convenient for brands and help them find out about customers' preferences. However, they aren't so much convenient and attractive to customers. Nobody likes to devote their free time to complete activities that won't bring them any benefit or at least fun. The good news is that you can gather feedback from customers much easier using a survey bot.
Such a bot is superior to a typical online survey because of a very simple fact; it engages users. Chatbots can have names, and personalities thanks to which customers feel like they are taking part in a conversation, not a survey.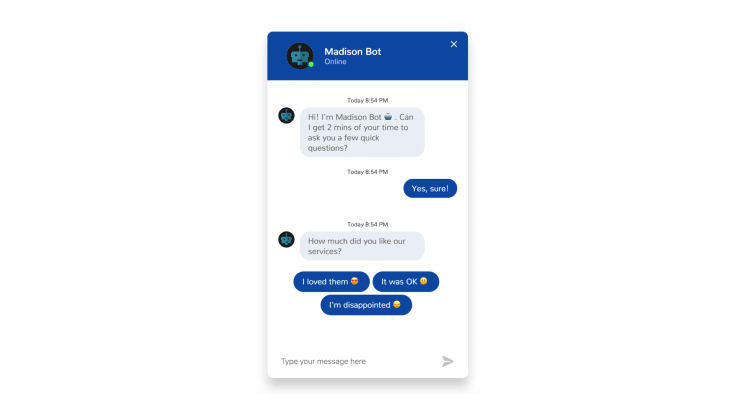 Also, there is a certain group of users who get discouraged seeing surveys with numerous questions. Whereas while chatting with a chatbot, users get only one inviting question so it's easier for them to answer it and jump to the next one.
While constructing your story, you can also use rich messages (buttons, cards, or carousels) to grab users' attention and lure them to click the buttons.

Learn how to create a survey bot in the Academy.
5. Appointment Bot
No matter whether you run a medical center, a Thai restaurant, or a beauty salon, booking appointments is a big part of your daily tasks. It's in your best interests to find time and place for those who wish to use your services as clients may be disappointed to come to your place and hit its walls because of the lack of an empty slot.

But clients tend to run errands and contact business owners at different times of day and night. It means that they might not necessarily want to contact you at a time suitable for your business hours.
To make matters worse for you, people hate waiting. When they are busy and time is short, they are more likely to go for example to the hairdresser who replied to their question and offered a suitable date, than to wait endlessly for responses from others. So, If you struggle with reconciling your business duties with arranging your customers' visits, you can solve the problem using an appointment bot.
It can ask about customers' preferences and provide additional information that will help them to make a reservation. In effect, your future clients can easily book a meeting and you can totally focus on those who are currently visiting you.
Follow the Academy lesson to create an appointment bot.
6. Competition Bot
Chatbots can help you and your clients to handle different kinds of tasks, but they can give a bit of fun too. By using competition bots, you can not only fulfill your business goals but also entertain your clients with brand quizzes.
Competition bots can engage clients on your website, educate them about your products and company, as well as offer discounts or special bonuses to happy winners. Thanks to them, you get a bigger chance to attract new customers, encourage a person to leave their contact information, and sell more products.

Follow the Academy lesson to create a competition bot.
As you can see, chatbots can be used in a wide variety of applications. They can assist, engage and amuse your clients helping to fulfill your business goals at the same time.
So what can I say more?
Your bots are for the taking, and the only thing left is to grab them.