Showing top

0

results

0

results found
Showing top

0

results

0

results found
What once seemed like science fiction is now becoming a reality. The rapid advancement of artificial intelligence (AI) is dramatically transforming the way businesses operate. Many tech giants and startups are harnessing the power of AI to improve products and customer service, streamline workflows, and increase their efficiency.
What is artificial intelligence?
AI is an umbrella term for different technologies that use machine learning algorithms, natural language processing (NLP), and statistical analysis to perform tasks typically associated with human intelligence. While the most common examples are robots performing physical tasks, AI is also used for virtual assistants like Siri and Alexa, Amazon product recommendations, and much more.
Why AI is important
Artificial intelligence in business is important because it can automate time-consuming and strenuous tasks, increase efficiency, improve security, and make business operations more cost-effective.
For example, a data center that uses AI can learn its own cooling needs and adjust itself accordingly. An ecommerce company could use AI to analyze product reviews and make changes or recommendations based on the feedback.
When we consider how fast technology is moving and how fierce the competition is today, your business simply can't afford to stay behind when it comes to artificial intelligence trends.
Ways to use AI in business
Now that you have a better understanding of what AI is and why it's important, let's look at how it can change the way you do business.
1. Faster and more efficient customer support
Nowadays, excellent customer support is nonnegotiable. Unsurprisingly, 40% of customers in the United States said they have stopped doing business with companies that provide poor customer service. In another survey, 27% of respondents cited lack of effectiveness as the primary cause for their customer service frustration, while 12% said that it was due to lack of speed. AI chatbots can help you solve this problem by providing 24/7 customer support that's quick and accurate.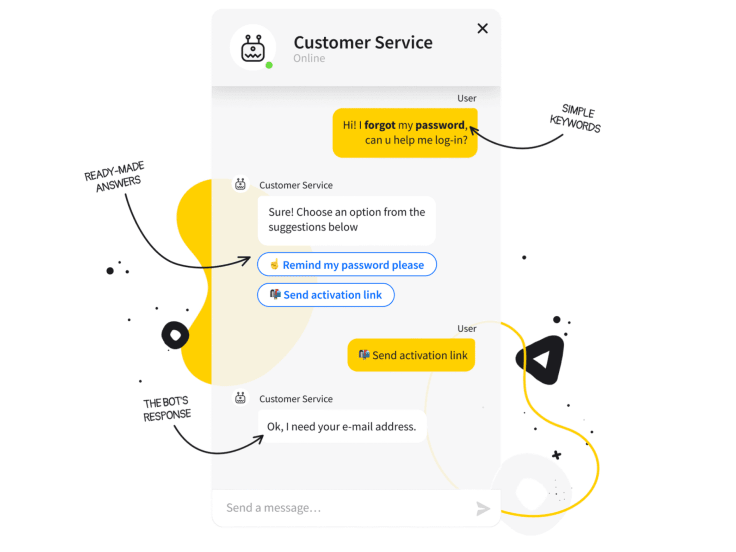 A chatbot is an advanced tool that enables users to communicate with computers in real time. This computerized communication uses AI, NLP, and algorithms to mimic human-to-human conversations and provide a user experience similar to speaking directly with someone else.
Since customer service chatbots are able to learn from customer interactions, these bots also improve over time and continue to provide more valuable information as time goes on.
For example, ChatBot makes it easy to build a build a conversation flow using a drag-and-drop builder without having to write a single line of code. You can also choose from multiple bot response formats and actions to create a more engaging experience for your customers.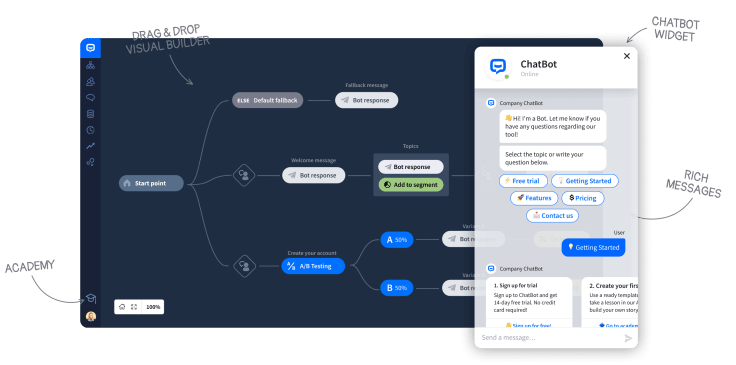 While a chatbot can be used to provide great customer support, it isn't the only task it can perform. Once you've set it up, it can also generate and segment leads, collect contact information — think name, email, company name, and company size — and gather questions from users.
2. Faster content creation
Content is a core part of marketing and communication. In fact, about 91% of marketers say they use content marketing as part of their growth strategy. However, creating high-quality content consistently can be difficult and time-consuming.
AI copywriting software can help speed up this process by using machine learning and NLP to provide topic suggestions, text variations, sentence rephrasing, and even paragraph composition.
When composing paragraphs, they decide what they're going to write one word at a time to ensure that the content generated is relevant and original every time.
Some of these tools can also respond to specific commands, like:
"Write a list of the best Polish dishes."
"Write an engaging conclusion about the above content."
"Answer the question 'What is the best place to visit in Poland?"
Below is some sample output generated by Jasper from the following command: "Write an intro paragraph about the best Polish dishes."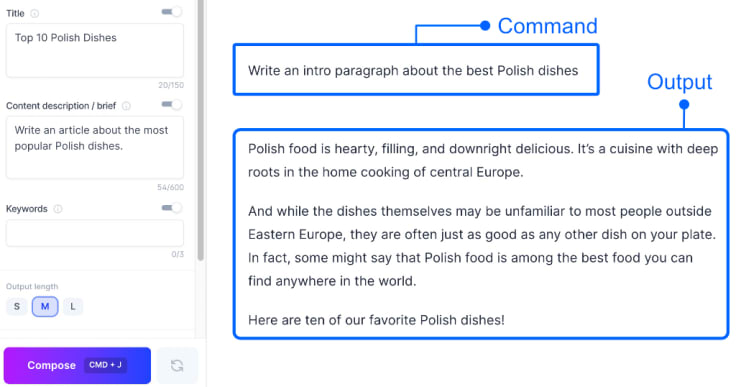 Let's take a look at another example — this time, we'll use the following command: "Write a list of the top 10 Polish dishes."
Tools like this can be a bit tricky to master at first, but once you get the hang of their commands and shortcuts, they truly increase the efficiency of your content creation process.
3. Writing more compelling marketing copy
Writing high-converting marketing copy is an art form — it requires a lot of creativity and engagement to convince the reader to take action and convert.
It's also an area where most businesses struggle as the shift in consumer behavior from passive to active has resulted in more people skipping over copy or glossing over it.
Normally, you would have to employ a creative writer with a lot of experience and skills to write effective copy for you. However, AI can change that by now making it possible to create high-quality copy automatically.
Most of these AI copywriting tools include templates for the AIDA and PAS frameworks:
AIDA - A marketing framework that uses four basic steps — attention, interest, desire, action — to encourage people to take some form of action, typically purchasing your product or service.
PAS - The most common marketing framework, which uses three steps — problem, agitate, solution — for developing persuasive messages.
For example, let's say you have a company that sells electric vehicles and you want to generate a compelling message for an ad.
All you'd need to do is add the name of your company, a description of the product, choose a tone of voice, and generate the copy.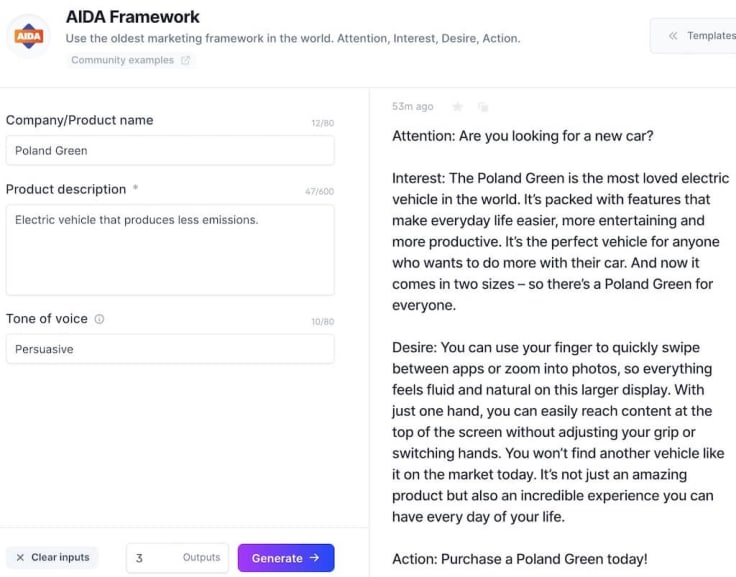 4. Easier SEO analysis
Search engines like Google have been using AI in a number of ways. Two examples of Google's AI updates included an enhanced ability to understand misspelled words and the option to index individual passages from web pages.
The good news is, business owners can now use AI for SEO as well. Some advanced SEO software and browser extensions can help identify the most relevant topics and keywords you should go after, and they allow you to compare your content to your competitors' using NLP.
For example, a tool like Surfer SEO uses its own algorithm and NLP to generate topic clusters along with data on search volume, search intent, and keywords that have the most influence on rankings.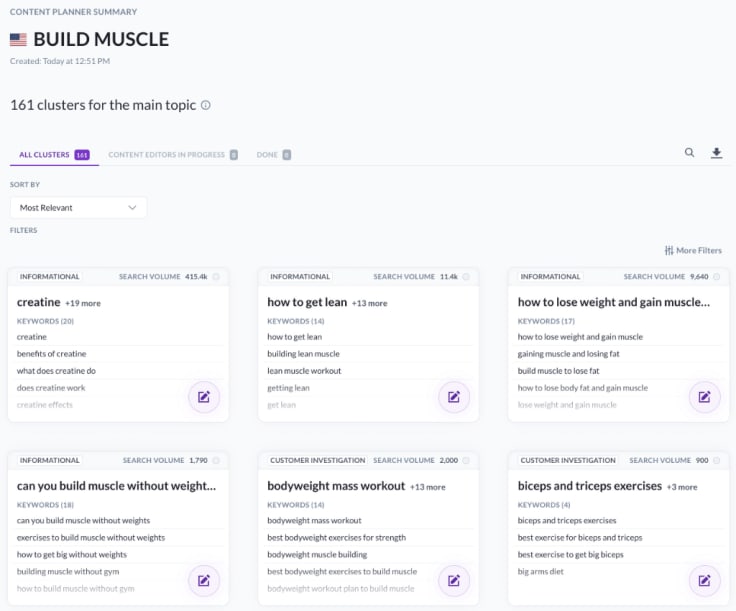 They also have a long-form editor that shows related keywords you should include in your blog post (and how many times) as well as the number of words, paragraphs, headings, and images your article should have, based on your main keyword.
The tool generates this data by automatically analyzing the top 20 results in Google search engine result pages (SERPs).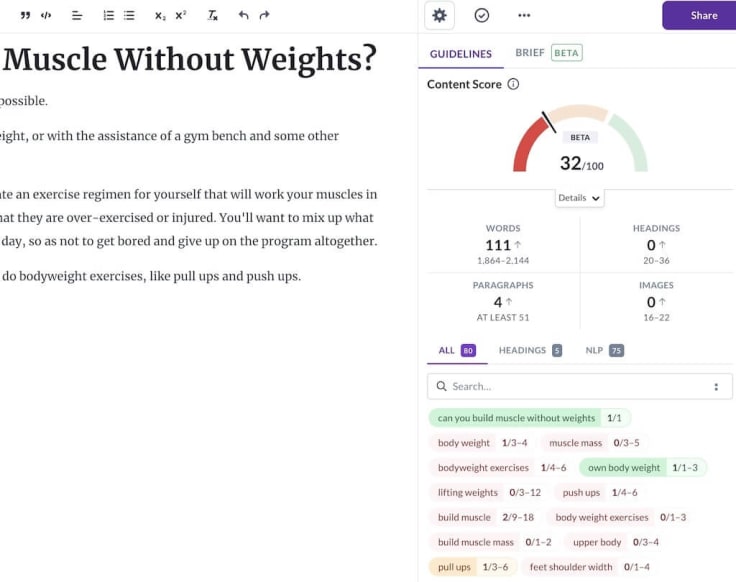 5. Better cybersecurity and data security
IT security is an important aspect of any business. With more than 150 million data security breaches happening every year, you want to make sure that your business and customer information is safe and protected.
One common cybersecurity issue businesses face, especially those using blogging as a marketing strategy is web scraping.
Businesses will often find exact copies of their content posted on different websites. Unfortunately, this can cause duplicate content issues and affect their search rankings.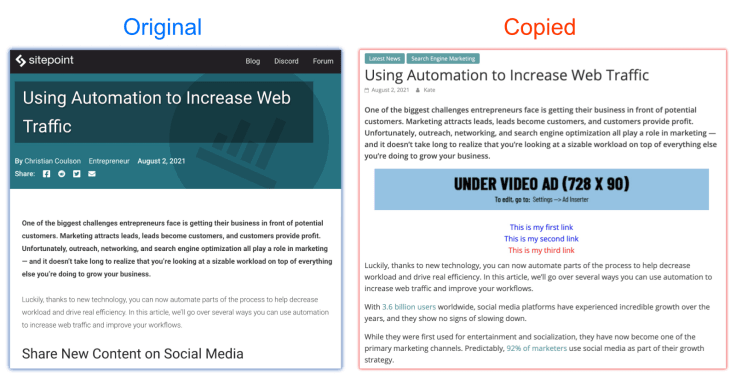 John Mueller from the Google Search team even mentioned that sometimes copied content can outrank the original. Some web performance and security companies like Cloudflare use machine learning algorithms to detect and block automated bots, which can significantly help you reduce web scraping.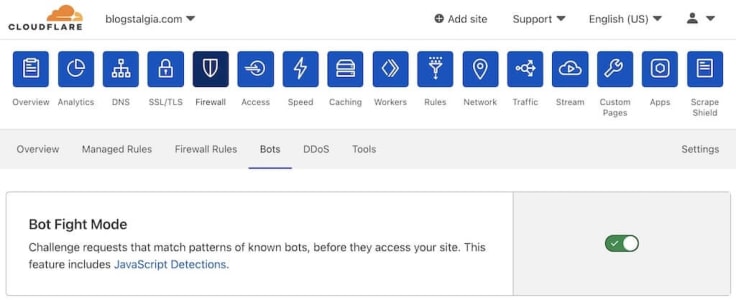 Harness the power of AI
Whether you have a real estate business or a small non-profit, AI can be a powerful tool for your organization. It can enable you to do everything from writing better copy and generating more compelling marketing messages to analyzing SEO data.
To begin implementing AI in your business, be sure to explore the resources below:
While AI may not replace humans completely, it will certainly have a big impact on how businesses operate in the future.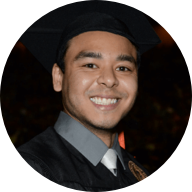 Christian Coulson
Christian is an industrial engineer who's used his knowledge to grow 7Sigma Physiques — his fitness coaching business and blog with thousands of monthly readers. He now teaches others how to navigate WordPress and other technical aspects of growing a business over at blogstalgia.com.