Showing top

0

results

0

results found
Showing top

0

results

0

results found
It's a Monday morning, and your HR team faces a wave of resumes in their inboxes in response to a few new job openings in your company. As the chaos is about to take over, your team's recruiting chatbot assistant steps in. It sorts through resumes, interacts with candidates, suggests the most promising profiles, and answers common queries from potential hires. Your team has gone from overwhelmed to in control with a few clicks.
In today's HR industry, innovation is the key to staying ahead. In this article, we're closely examining something significantly changing recruitment - the best HR hiring chatbots. So, prepare to see how they help employ new team members.
🤖 Would you like to grow your business with AI?
The evolution of hiring with an HR chatbot
The past approach to hiring new employees had its challenges. Navigating through stacks of resumes, conducting a series of phone calls, and answering multiple questions from candidates at the same time was difficult. This significant workload often led to some good candidates being overlooked.
HR chatbots are made to simplify and automate the recruitment and HR processes. They can engage in meaningful conversations with candidates, address their queries, and even organize and select resumes that match the position best. With these HR tools, identifying and selecting new team members can become significantly more efficient and faster. If you want to get familiar with some HR chatbot use cases, not only in the hiring and interviewing process, you can explore them here.
While discovering the world of hiring with recruiting chatbots, it's essential to consider what suits your team's needs:
Customization: Seek chatbots tailored to match your company's goals.
Candidate screening and shortlisting: Prioritize chatbots that can analyze resumes, ask relevant questions, and identify top candidates based on specific criteria.
Candidate engagement: Look for chatbots to maintain conversations with candidates, answer queries, and schedule interviews.
Integration with existing tools: Choose chatbots that integrate with your current systems or other HR tools.
Ease of deployment: Look for chatbots that are easy to implement and don't require extensive technical knowledge.
With these considerations in mind, it might be easier to find the right chatbot that aligns with the unique needs of your HR department and significantly enhances your recruiting processes, making them more efficient and productive.
If you want to explore the advantages of HR chatbots in more detail, we have an article on the benefits of chatbots you may like.
Introducing the leading HR chatbots
In our exploration of recruiting chatbots, it's essential to get familiar with some of the great options available to HR professionals on the market. We will review ChatBot with its ready-to-use templates, Paradox, Ideal, and Humanly.
ChatBot
ChatBot is a comprehensive platform that empowers you to build and deploy conversational chatbots without any coding skills required. It's an ideal tool for proactive engagement with website visitors that is constantly innovating.
For those looking to improve their recruitment process, ChatBot offers a valuable Job Application Template. This template automates candidate sourcing, provides detailed job descriptions, and collects contact details efficiently. Candidates can submit their applications directly within the chat window via LiveChat or Facebook Messenger.
The template simplifies the recruitment journey, allowing your HR team to focus on building relationships with the most suitable candidates, all while saving valuable time. It's an excellent addition to your website, LiveChat, Messenger, Slack, and other platforms to increase employee experience and establish long-term customer relationships.
Template features:
Answering common questions
Promoting open positions
Collecting contact information
Generating leads
Educating candidates about your company
Can be customized and take care of more than just hiring
Part of the ChatBot platform that offers a range of solutions and integrations
Easy to deploy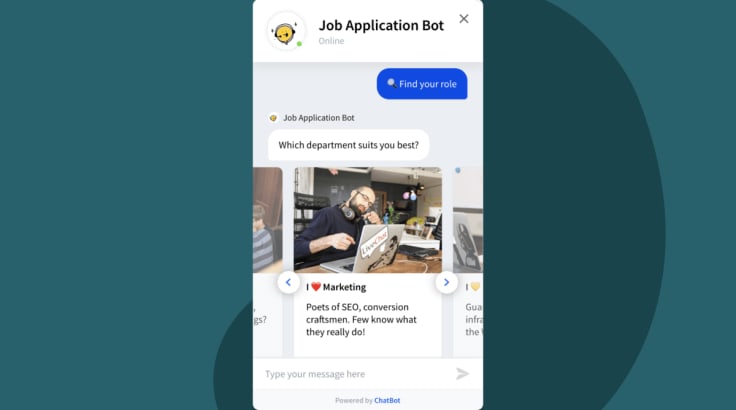 Paradox
Paradox offers an HR chatbot named Olivia. It is designed to simplify the job application process. It allows candidates to apply comfortably through their smartphones in a text conversation. It can facilitate video chats with candidates through a simple link and screen candidates for job requirements. Olivia can also autonomously schedule interviews and integrate with various systems, applications, and devices through direct integrations and an open API.
Key features:
Job application through texting
Video interviews
Candidate screening
Interview scheduling
Integrations
Ideal
Ideal offers a recruiting chatbot that enhances candidate engagement, eliminates the need for extensive phone screenings, and efficiently assesses applicants. It can streamline the pre-screening process 24/7 and deploy chatbot questionnaires through instant messages and emails. The chatbot can efficiently automate up to 70% of initial interactions.
Key features:
Enhancing candidate engagement
Pre-screenings
Prioritizing top candidates
Candidates qualification
Sending chatbot questionnaires
Humanly
Humanly is a tool that automates conversations with candidates through various channels, such as email, text, job boards, and your website. It ensures that candidate profiles remain updated and employs unbiased questioning to get a view of the candidates' skillsets and backgrounds. Humanly looks for candidates who can contribute positively to your organization's culture.
Key features:
Answering candidate questions
Screening and scheduling
Candidate engagement
Assessing candidates' skills and backgrounds
Maintaining and updating candidate profiles
HR chatbots and benefits for your recruitment processes and beyond
The right recruiting chatbot can be a valuable addition to your recruitment toolkit, improving the efficiency and effectiveness of your hiring process. The decision of which one to choose should align closely with your HR department's specific needs. When wisely chosen, an HR chatbot can bring many advantages to the table, not only for your recruitment process.
Incorporating an HR chatbot into your processes isn't just about efficiency but also about delivering a better candidate and employee experience. These digital assistants can be an extensive HR support by handling repetitive tasks and allowing your HR team to focus on building relationships with candidates and making important strategic decisions.
Looking forward, the future with AI-powered chatbots looks even brighter. As AI technology constantly advances, these chatbots will become even better at understanding and meeting your HR needs. This ongoing evolution in AI-powered HR chatbots will undoubtedly lead to a future where HR support is better and increasingly insightful, enhancing your organization's overall efficiency and effectiveness.
Why is ChatBot your best choice?
ChatBot, with its Job Application Template, can be a very effective hiring assistant that will simplify your recruitment, save lots of your hiring team's time, and foster relationships with potential future employees. However, it is unique among different recruiting chatbots because it can also help you in other areas beyond human resources.
If you need help in the marketing, sales, or support area, you can create your ideal task-specific and industry-oriented chatbot with only a few clicks by using diverse ChatBot templates. A unique approach focusing on building lasting customer relationships with minimal effort, blending artificial intelligence with a human touch is like an identification mark for ChatBot. Our tool allows you to easily customize your chatbots and test their functionality before deploying them.
We offer our users their preferred channels for engagement through integration options with various platforms, like Facebook Messenger, Zapier, or Slack. Moreover, ChatBot provides detailed reports to monitor and improve chatbot performance. As a dedicated product within the Text company's portfolio, ChatBot benefits from continuous development and excellent dedicated customer support.
However, the most exciting fact is the upcoming release of ChatBot 2.0, which will allow you to create AI-driven conversational bots to automate customer service across your website and diverse communication platforms. This AI chatbot reviews your website, KnowledgeBase, or Zendesk Help Center, effectively answering frequently asked user questions. It relies entirely on the data you provide, giving you absolute authority over its responses, and can be equipped with many diverse integrations.
🤖 Would you like to grow your business with AI?
Create your personalized recruitment journey today!
Recruiting chatbot is leading the way in transforming the hiring landscape. These helpful tools improve recruitment and create efficiency and engagement among future and current workers.
Exploring the world of HR chatbots and finding the one that perfectly fits your organization's hiring vision is essential. By making this choice wisely, you'll create the way for a more prosperous and personalized recruitment journey and simplify your general HR support.