Showing top

0

results

0

results found
Showing top

0

results

0

results found
3 min read
Jun 26, 2018
The new bot action, Ask Question, adds more customization to the way you collect users' data.
What's your first idea when you imagine a chatbot? A computer program designed to answer questions? A talkative assistant able to schedule a meeting? A human-like customer service agent that helps you to pick the right product from the online shop?
Chatbots aren't just passive programs waiting for a human to start to chat. They can be proactive and rambunctious interlocutors that drive the conversation, validate data and memorize its essential elements.
ChatBot provides you tools to build eager chatbots that gather valuable information from users and now one of them, Required Attributes, just got a significant update.
What's new in Required Attributes
First of all, we've moved Required Attributes to the bot responses section where you can use it exactly the same way as any other response or action. Apply filters, to trigger the setting of your questions only when needed or use them alternately with different responses. To emphasize the primary role of the new action, we've also given it a new name, Ask a Question.
The update also brings extensive customization: scheduling questions in a queue, setting the question as required, the number of the repetition and much more. Now you've got full control over the question including all cases.
Main features:
Let's take a look at the new feature of the refreshed response: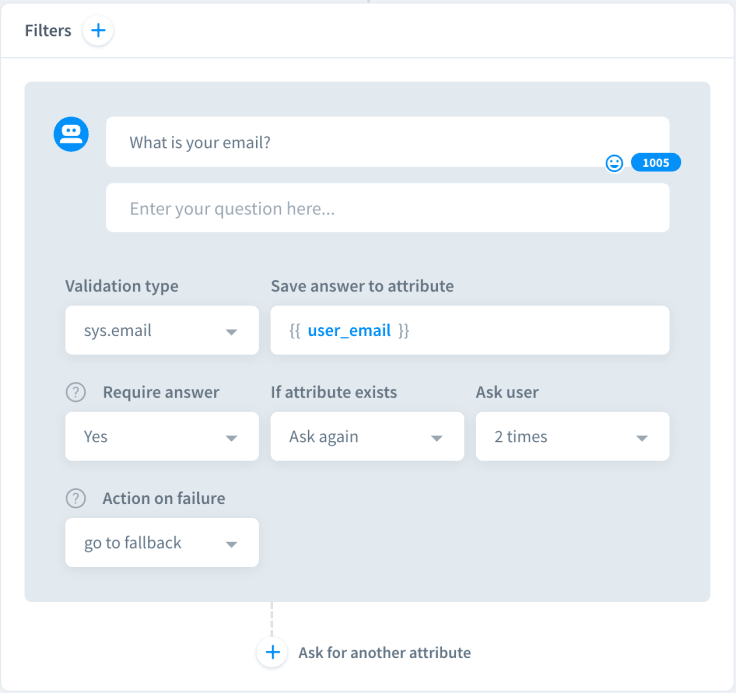 Your question — type your question here. Note that if you decide to enter more questions, they'll appear in this exact order.
Validation type — select an entity that you want to validate. You can choose either system or user entities.
Save answer to attribute — give your attribute a name to reuse it in the future.
Require attribute — prevent matching queries outside this action.
Ask when attribute exists — prompt the user even if the attribute has been previously filled in another interaction.
Ask again — decide how many time is the bot going to repeat the question in case the attribute isn't filled.
Action of failure — choose the action to be triggered when the maximum number of questions is reached.
Moreover, Ask a Question behaves like any other bot response or action — you decide its order, add the delay and apply filters to it.
Follow the video tutorial to learn how to use the new bot action:
What happens to my story
Have you already used Required Attributes in your scenario? Don't worry, we automatically upgraded your stories to the new system and replaced old Required Attributes with the new Ask a Question actions. Note that these responses have been added on the top of bot responses, according to the old system.